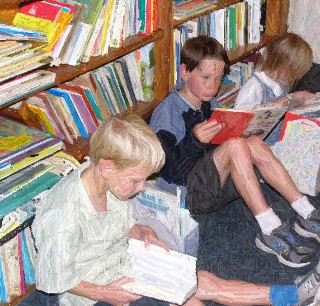 We are cruising in our full-blown Fall schedule right now. Our days have been running incredibly smoothly for the past 2 weeks and it's so nice to feel like we are in a groove. The children are really enjoying our mornings of learning together, and honestly it's really due to one Charlotte Mason principle:
SHORT LESSONS.
There is little to no complaining from my children. They are generally excited and eager to work. We are covering a wide variety of topics and yet still being done with our formal learning within 3 hours.
Short lessons are working!
Charlotte Mason was brilliant, I tell you. I have read so many books about her
teaching concepts
over the years, but realized that I never really implemented them with consistency in order to begin seeing the fruit. Building habits, short lessons and narration really are
powerful learning tools
. I think that we tend not to believe that they are because these concepts are simple. Really really simple. Easy to implement. Why do we think that teaching/learning has to be hard and arduous in order to be effective?
Keep homeschooling simple a la Charlotte Mason: Talk less. Keep it short. Read good books. Narrate. Get outside. Pay attention. Gaze on beauty. Listen to beautiful music. Make stuff.
Sounds do-able to me.