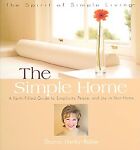 I was
thrilled
to find
this book
at the library this afternoon and I think it will be a new favorite!
"The journey to simple living begins at home. And the first step is to throw out the idea that things can, or should, be perfect. The next step in creating a home that is both functional and restful and renewing is to invite God in. With prayer and reflection, anyone can bring a sense of peace and purpose to every room in the home."
from the cover
:
"The December solstice is a turning point. For some it represents a time of darkness, the shortest day of the year. But for others this event--just a few days before Christmas--is about hope, renewal, and rebirth. In a story both deceptively simple and effortlessly complex, Rosamunde Pilcher brings together five very different people, ranging in age from the teens to the mid-sixties, each of whom must confront very different challenges or losses...but somehow the group proves greater than the sum of its ill-suited parts, and as the solstice passed and Christmas approaches, the healing power of love, even on the most troubled human spirit, begins to work its magic".
Time to invite my sweet hubby to get a fire going, brew some hot tea, grab my favorite fleece blanket and curl up for some inspiration!
What are you going to be reading this week?